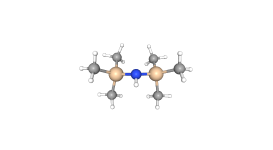 Sodium Hexamethyl Disilazide (in THF)
Chemical Name :
Sodium Hexamethyl Disilazide (in THF)
Synonyms : Sodium bis(trimethylsilyl)amide, N-Sodiohexamethyldisilazane, NaHMDS
CAS No. : 1070-89-9
Molecular Formula : C6H18NSi2Na
Formula weight : 183.38 gm/mol
About
Sodium HexamethylDisilazide is abbreviated as sodium HMDS and it is an organosilicon compound. This strong base is used for deprotonation reactions or base-catalyzed reactions.
Packaging
175/180 kgs net material packed in 200 Ltrs capacity M.S/HDPE Drum under nitrogen blanket or as per customer requirement.
Applications
Sodium Hexamethyl Disilazide widely used as metalation agent in Organic Synthesis
* Highly flammable, corrosive
Mahidhara chemicals private limited is the leading manufacturer for Sodium HexamethylDisilazide in India. Sodium HexamethylDisilazide is an organosilicon compound and is used as a strong base in various synthesis reactions in the pharmaceutical industry. Our team is well equipped to handle the manufacturing and packaging of Sodium HexamethylDisilazide as per the requirement.