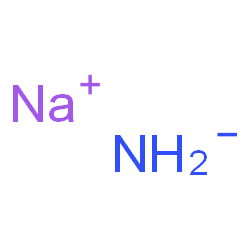 Sodium Amide
Chemical Name :
Sodium Amide
Synonyms : Sodium amide, sodamide
CAS No. : 7782-92-5
Molecular Formula : NaNH2
Formula weight : 39.0 gm/mol
About
Sodium Amide is a crystalline compound which decomposes explosively in contact with water. It is considered as a strong basic condensing agent and is generally prepared by passing ammonia through molten sodium, and is used chiefly in making sodium cyanide. Sodamide is the common name for sodium amide is salt composed of sodium cations and the azanide anion.
Packaging
5 kgs of net material packed in double lined polythene bags under nitrogen atmosphere. 25nos of such packets are packed under nitrogen blanket into a 200Ltrs capacity ring lock steel container with top lid removable. The material can be supplied in Toluene soluble bags on specific request.
Applications
Sodium Amide is a useful agent in Organic synthesis for the promotion of condensation reactions, for the introduction of amino groups into a molecule and for dehydration. It is also used in the manufacture of Sodium cyanide and Sodium Azide
* None
Mahidhara Chemicals Private Limited is one of the leading manufacturer of Sodium amide in India. We have more than 2 decades experience in manufacturing this product and you can rely on the quality. It is one of the popular products due to varied uses; it is mainly used for condensation reactions and also for the introduction of amino groups in a molecule. Contact Mahidhara Chemicals Private Limited team now for more details.